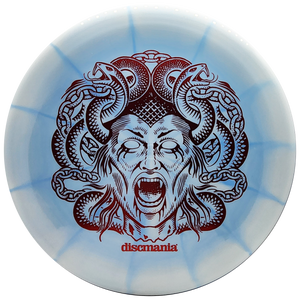 Discmania
Discmania: Limited Edition Lux Vapor Link (Medusa) - Light Blue/Red
Regular price
$19.99
$0.00
Unit price
per
An iconic Halloween design first debuted in 2020 is back with a blast of color and Vapor twist on the Lux Vapor Link. Although it won't turn you to stone, you can stare down any shot with confidence with the Medusa Vapor Link in hand.

The first putter released in our Evolution line up, the Link has become one of the most popular putters out there among Pros and recreational players alike. While the Exo plastic versions of the Link certainly provide some great variety for this mold, a Premium version of the Link has long been among the most requested models in our line up. This is much thanks to the few smaller limited runs of the Lux and Neo Link we've created in the past that have become staples as highly versatile throwing putters for many.
Flight-wise, players will appreciate the high glide, smooth finish and better durability on these than on the popular stock selection Exo Links. The Link has a stable flight for a putter, able to handle a lot of spin without getting turning over and able to soar to the basket without fading out too soon.
This putter features a bead on the rim that makes the Link feel comfortable and helps it glide out of the hand easily on every shot. The Link has a straight flight when thrown with some power, resulting in a putter that can be relied upon for any up shot needed on the green and beyond. Attack the basket head on, or adjust the angle of release to crush any hyzer or anhyzer line with enough glide to carry clear down the fairway.
---